"Finally

brothers

and sisters, whatever is true, whatever is noble, whatever is right, whatever is pure, whatever is lovely, whatever is admirable—if anything is excellent or praiseworthy—think about such things."     ~Philippians 4:8
 FREE Tea Time Plan below!
In previous weeks I posted my first of a two part series on Tea Time How- Tos. In the first post I shared on all I do before our tea time to prepare. If you haven't read it, you can access it here. This post, however, will look at the tactile pieces of the actual tea time. We have created a liturgy over the years that works for our family. A liturgy literally means "the work of the people." It is the rhythms, practices and routines that impart meaning and direct our affections. How our affections are ordered greatly depends on the liturgies we harmonize with in our life. Tea Time is a liturgy we have used to "order our loves" as Augustine said, so that we "love the things that are lovely"- which means our affections need to be cultivated.
I would encourage you to work out a liturgy that best suits your unique family's values and persons. My children have grown to love our tea time liturgy and if I do something out of order, they pick up on it right away. There is something comforting about travelling down a road we have gone before. The views, sounds, tastes and smells of our embodied learning may differ, but the structure remains. We long for constancy don't we? For as Augustine stated, "our hearts are restless until they find rest in You." You can read more about the 1o Reasons I love Tea Time here.
OK…so how do we take these principles and put them into practice?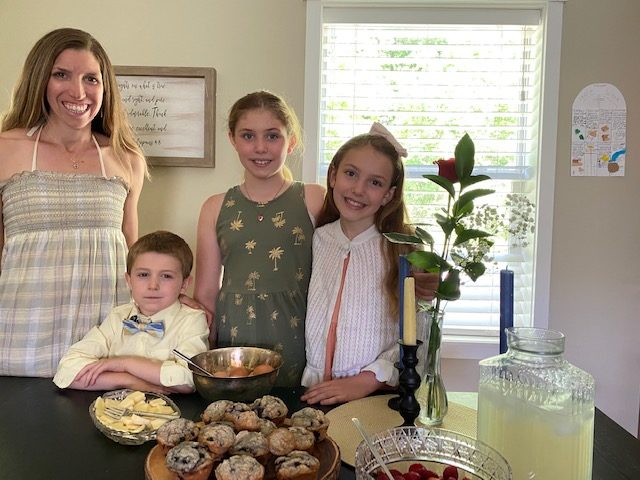 Welcome / Statement of Intention
 After we have reviewed table etiquette, I invite the children to the table.  My son pulls out all the chairs for his sisters and mama.  We desire for him to have a servant heart and value and honor women.  This starts in the home.  I then recite Philippians 4:8,
"Finally, brothers and sisters, whatever is true, whatever is noble, whatever is right, whatever is pure, whatever is lovely, whatever is admirable—if anything is excellent or praiseworthy—think about such things."
I remind the children why we set this time aside- to quiet our minds and hearts so that we can more fully hear and experience God through things that are true, good and beautiful. (This is a phrase of the classical educational realm that you may or may not be familiar with, but it has its roots deep into the past. I hope to write more soon about what this actually means and how we can practically implement this in our home. Tea Time is certainly a good start!)
We pray. We have really begun to enjoy the language and the antiquity of previously written prayers from times past and the beauty of joining alongside the heart songs of men and women who have gone on before us. You can find many beautiful prayers online or in a book of common prayers.
We light the candles. We have created a liturgy of lighting three candles- one for each person of our triune God. Here is a FREE download of the Candle Lighting Liturgy we have used.
FREE Candle Lighting Liturgy
We then sing either the Doxology or the Gloria Patri. We no longer sing these hymns in the churches we have attended since having children, and it wasn't until visiting my home church a few years back that I realized my children didn't know these songs- songs that have been etched into my soul since my childhood.  I have since made a point of teaching both to them so they too can join in with the congregation at my Dad's church when we visit and other gatherings.  We now sing one of these two songs at the beginning of every tea time, and at the start of our Morning Scholé, which is our version of a Morning Time or Morning Basket.
I then pour the tea (or lemonade in the warmer months) and read a passage from the Bible, or from one of our favorite story-like children's Bible. We have many, but our current favorite is The Child's Story Bible by Catherine F. Vos.
My appointed food server, a pined after position, then begins to pass out some of the food- not the treat, however.  That we save for last.  I want to keep them engaged and serving the food slowly certainly helps with this.  And my children now know from our discussions on table etiquette, it is not good manners to ask for something before it has been properly offered.  After the first round of food has been served, I read a picture book or two based on whatever theme I may have selected for our tea time.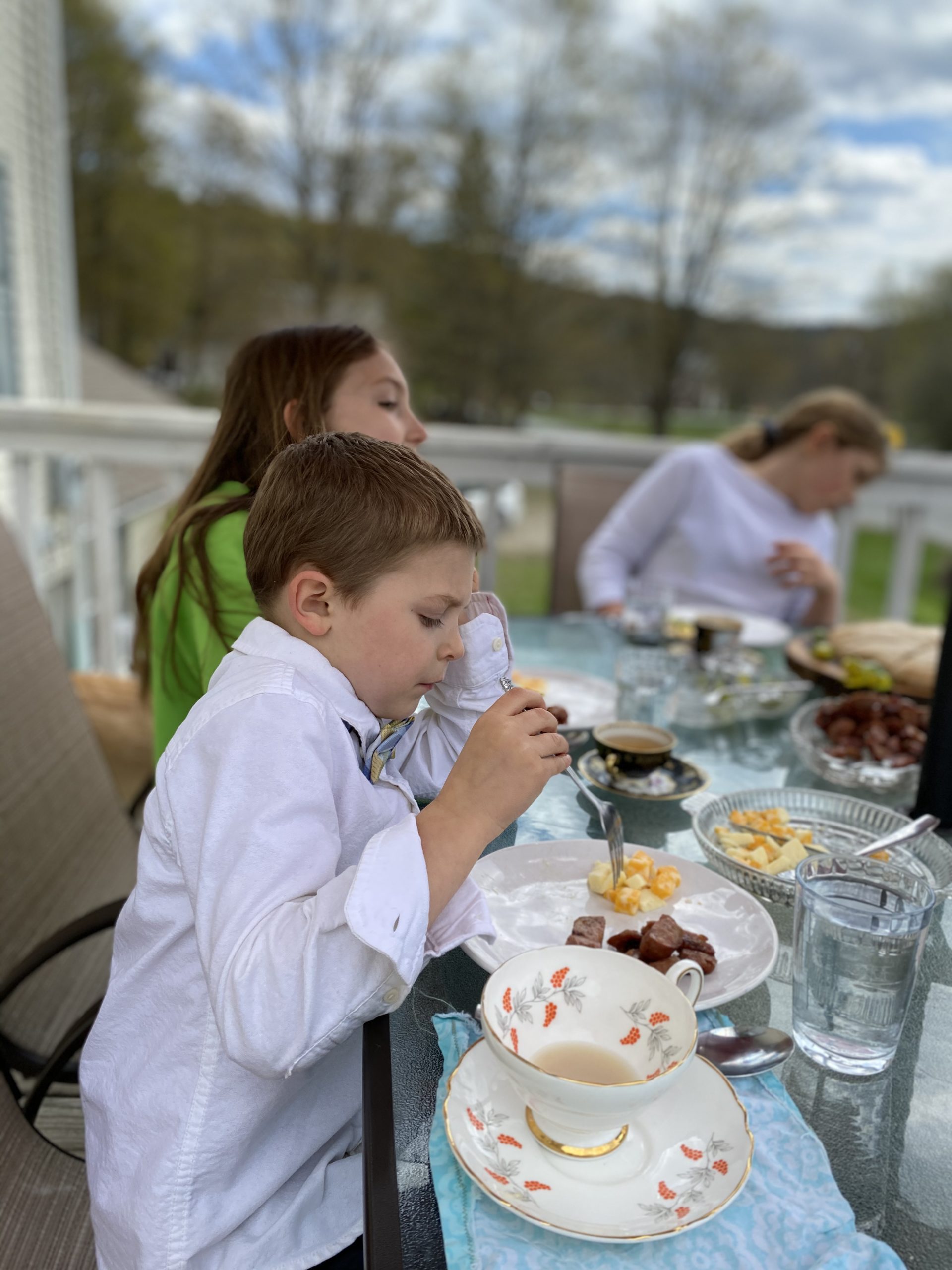 The intent of this time is to work towards prolonged periods of quiet attentiveness, active listening, and the mere enjoyment of various musical masterpieces.  There is no need to fill up the space with teaching.  Rather, I seek to cultivate an atmosphere of restful appreciation of the ideas and emotions presented by the composer through musical orchestration.  At the end I set aside a few minutes to share any thoughts, observations or responses to what was heard.
This is typically when I ask my food server to pass out the treat, which is typically scones, muffins or toast with jelly or honey.  After everyone has been served, I read a poem aloud, typically connected to the theme.  Initially, I ask if anything stood out after the first reading, or if any words were uncertain. If so, I clarify unknown words quickly. I read the poem again, this time asking the child to listen for any rhyming words or a rhythm to the words..  On the last reading, ask the children to close their eyes, and see if they can picture any parts of the poem in their mind, and how it made them feel.
At this point we are done with our eating, so I can display a picture without as much concern of it getting wet or sticky.  I place a print of a painting before the children and ask them to attend to as many details as possible in their mind.  I then remove the picture and ask them to recall what each can remember.  I then show the picture again, asking the children what new details they notice about the painting.  Is it more realistic or abstract?  Are the lines crisp or is the image more blurred?  What does the picture communicate to you?  What shapes and colors do you see? How does the picture make you feel?  I repeat this with a second image.  Once I have spent a bit of time with both images, and if my children are still attentive, I ask them to compare the two pictures.  Which picture did they like best and why? And because I have some older children, I also briefly discuss the artist and the period of art the piece best represents.
At the end of our time I ask the children what one thought, idea, image or feeling would they like to thank God for from our time together and to carry with them throughout the coming weeks. We share for a few moments and then pray. I close out our time together with a benediction of God's truth, love and grace from a pre-selected Bible passage.
The children then help me clear the table quickly. We don't do a thorough cleaning at this point, just enough to make the space seem somewhat presentable again, and then we head off to our back playroom to explore what creative response options I have available. I typically find a free online tutorial of some artistic expression of the theme we just shared. We have done watercolor, drawing, chalk art, sculpture, sewing… the options are really limitless. This is an opportunity for them to respond and reflect as they work out something tangible with their hands. Once they are set up with this, I usually slip out of the room to actually clean up and store up in my heart all the sweet moments we have just shared.
 Ready to give Tea Time a try?
FREE TEA TIME PLAN
 Week 4: Lilacs and Lupines, Spring Scholé Bundle
Spring Scholé Bundle
This bundles include SIX spring and summer themed tea time plans